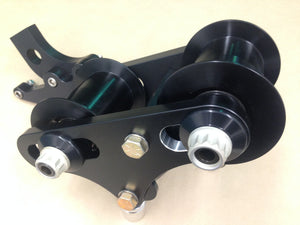 This Dual Idler Assembly is designed to reduce the oscillation of the belt on the tension side allowing improved contact wrap with the drive pulley.  This is a particular advantage on dragsters using a small 32 tooth top pulley.  The system also incorporates quality high speed bearings in (2) crowned pulleys** for improved belt life well over 11,000 RPM
**Pulleys are 3.400" wide (86.4mm) and are designed to be used with an 84mm wide belt.
We also offer custom 8mm 32 tooth top & 8mm 75 tooth bottom pulleys made from 7075-T6 aluminum with stronger bodies that reduce flex and improve belt life.  See "Blower Pulleys"
*All items must currently be purchased through the shop at Norm Grimes Racing. This is to ensure availability and confirm part compatibility. Please contact us at 818-504-9181 (Main) or 805-501-1810 (Cell) during normal business hours to speak to a sales representative.
Mon-Fri 8:00 am – 5:00 pm
Sat by appointment
Sun closed