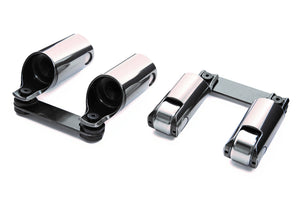 Roller Lifter Pair / 1.000" dia. body / .905" dia. wheel
Pro/Mod - Outlaw 2.300" to 2.400" spread lifter bore
Jesel's direct replacement, ultra strong, Alcohol Hemi Lifter is resetting the standard for lifters in blown alcohol engines.  The REM polished, one-piece tool steel bodies are connected with a heat treated stainless steel tie bar and can be fully rebuilt.  Roller features include precision sorted tool steel needles distributing the load to a .378" diameter dual pinned axle and are available in .905" or 1.000" diameter Open Pocket Body's.
$357.00 per pair
$2,856 per set of 16
PN-PLF-SP1002
*All items must currently be purchased through the shop at Norm Grimes Racing. This is to ensure availability and confirm part compatibility. Please contact us at 818-504-9181 (Main) or 805-501-1810 (Cell) during normal business hours to speak to a sales representative.
Mon-Fri 8:00 am – 5:00 pm
Sat by appointment
Sun closed