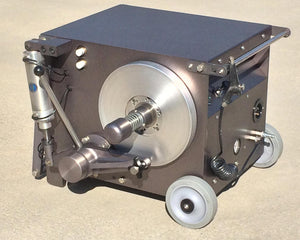 This machine operates on 110 vac & air. It cuts clutch disc easily & quickly. Adjustable feed allows the operator to select the surface finish they choose. Power feed automatically stops when cut is finished. Can be set up to cut positive or negative taper.
The machine can be easily adjusted to cut surfaces flat, or with a taper either positive or negative.
It can be bench mounted or rolled around effortlessly on attached wheels.
*All items must currently be purchased through the shop at Norm Grimes Racing. This is to ensure availability and confirm part compatibility. Please contact us at 818-504-9181 (Main) or 805-501-1810 (Cell) during normal business hours to speak to a sales representative.
Mon-Fri 8:00 am – 5:00 pm
Sat by appointment
Sun closed