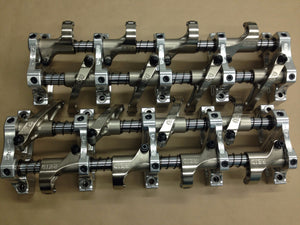 These are the highest quality Hemi shaft rocker assemblies made today and are used on the finest & fastest supercharged hemi engines in racing.
***ADJUSTING SCREWS AND NUTS ARE NOT INCLUDED***
FH2 fits:  
BAE fat head
AJPE muscle head   II, III, IV
NRE hemi
Co Line hemi
GSM fits:
Chuck Ford raised intake hemi
*All items must currently be purchased through the shop at Norm Grimes Racing. This is to ensure availability and confirm part compatibility. Please contact us at 818-504-9181 (Main) or 805-501-1810 (Cell) during normal business hours to speak to a sales representative.
Mon-Fri 8:00 am – 5:00 pm
Sat by appointment
Sun closed